Midwife
Application Deadline: 2023-04-30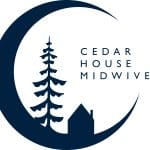 Website Cedar House Midwives
Sustainable Collaborative Care Practice!
Cedar House Midwives is looking for a locum interested in providing coverage with a flexible start date, but prefer as soon as possible. Preference for someone interested in a longer locum; we have available work for at least 18 months, with possibility of becoming a permanent team member.
We are a friendly, supportive practice located in the beautiful Comox Valley on Vancouver Island. Currently, we are in a cozy stand-alone clinic in downtown Courtenay with privileges at North Island Hospital, Comox Valley. We are a shared care team of 4 midwives and take approximately 12-14 EDDs per month, with one to three 24 hour call shifts and one clinic day per week.  However, we have some exciting changes coming to our practice as we are currently in process of creating a collaborative care clinic with a blend of our team of 4 midwives, and 4 like-minded family doctors. Our vision is to create a sustainable work/life/on call balance within this group in order to best serve our diverse clientele in offering quality, trauma informed maternity care. There will be a big emphasis on group prenatal and postpartum care along with having allied health care workers involved such as physio/social work etc. We plan to have 12-24hr call shifts and to maintain home visits as well. Collaborative care models are growing in BC, and our team is really excited about the potential in front of us. These changes will be happening on March 1, 2023, so the ideal applicant needs to be interested in this new model of care. 
Our hospital was newly built in 2017, with 9 private labour-delivery-postpartum suites.  We believe one of the best assets of our hospital are our fabulous nursing colleagues who are very supportive; we work closely together with them for our hospital assessments and deliveries. We also have solid working relationships with our paediatric and obstetrical consultants. There is another great midwifery practice in town, and we are able to help each other out for home birth back-ups etc. We use Juno (Oscar) for charting and billing; so far our hospital is still using paper charts.   
The Comox Valley has something for everyone, especially those who love the outdoors. You could find yourself kayaking in the ocean in the morning, and shoe-shoeing or skiing up Mt Washington in the afternoon. There are lakes, rivers, swimming holes, beaches, mountain bike/hiking trails, waterfalls and more, all within our call radius.  There is a thriving arts community with local performances as well as diverse restaurants and stores for all your needs. We have a small-town feel with the benefit of most everything you need or want within a 15 minute drive.  
The ideal applicant would have some comfort working in rural areas as we are not a tertiary centre and need to transfer out some high risk clients (preterm labours etc).  A strong commitment to communication and teamwork is imperative, as is the ability to quickly connect and build rapport with clientele.  
Come join us if you are interested in the dreamy island life!  
Website: www.cedarhousemidwives.com
Send CV and cover letter to: 
info@cedarhousemidwives.com