Since 2001, the Canadian Association of Midwives (CAM) and the National Council of Indigenous Midwives (NCIM) have promoted the vital role of midwives in sexual, reproductive, and newborn health. We work across all levels, driving change in legislation and funding, strengthening regional associations, and supporting midwives directly with tools and learning opportunities.
CAM's Land Acknowledgement
Land Acknowledgement
CAM's head office is situated on the unceded traditional territory of the Kanien'kehá:ka Nation, part of the Haudenosaunee Confederacy. We recognize the Kanien'kehá:ka Nation as the custodians of the lands and waters of Tiohtiá:ke (Montreal), which has long been a gathering place for diverse First Nations, including Algonquin-Anishinaabe, Atikamekw, and Huron-Wendat.

We recognize the historical and continued violence of settler colonialism and are committed to learning and working toward reconciliation through collaborative, bilateral and reciprocally beneficial relationships with Indigenous peoples and communities.
NCIM and CAM Memorandum of Understanding
Since 2008, CAM and NCIM (formerly NACM) have been deliberately cultivating a collaborative relationship anchored in the belief that true partnerships between Indigenous and non-Indigenous health care providers will result in improved health care outcomes for Indigenous families. CAM acknowledges its responsibilities to the rebuilding of Indigenous nations and does this work through the guidance of NCIM. As a federally incorporated not-for-profit organization, CAM administers funds and staff positions on behalf of NCIM for ongoing activities and programming. This relationship is outlined in the historic Memorandum of Understanding signed between CAM and NCIM in 2017.
https://indigenousmidwifery.ca/sites/indigenousmidwifery.ca/wp-content/uploads/2017/12/NACM_CAM_MoUFINAL260517.pdf
Anti-indigenous Racism and Disrupting Colonization
The National Collaborating Centre for Indigenous Health (NCCIH)
The National Collaborating Centre for Indigenous Health (NCCIH) is a national Indigenous organization established in 2005 by the Government of Canada and funded through the Public Health Agency of Canada (PHAC) to support First Nations, Inuit, and Métis public health renewal and health equity through knowledge translation and exchange.
Yellowhead Institute is an Indigenous-led research and education centre based in the Faculty of Arts at Toronto Metropolitan University. The Institute privileges Indigenous philosophy and amplifies Indigenous voices that provide alternatives to settler colonialism in Canada today. Rooted in community networks, Yellowhead offers critical and accessible resources to support the reclamation of Indigenous land and life.
Online events, research, educational opportunities and tools, and a robust library.
https://yellowheadinstitute.org/
Indigenous Ally Toolkit
Published by the RÉSEAU de la communauté autochtone à Montréal, an excellent tool for individuals and organizations to examine their implicit biases and strategies for implementing change. Available in French and English.
https://reseaumtlnetwork.com/wp-content/uploads/2022/12/Ally_March.pdf
Writing Your Own Land Acknowledgement
If you would like to write your own land acknowledgment, here are some useful resources.
Memorial University's Office of Indigenous Affairs has an excellent resource about land acknowledgements, decolonization, and protocols. (https://www.mun.ca/indigenous/resources/territory-acknowledgement/)
Amnesty International: Activism Skills: Land and Territory Acknowledgement
A thoughtful resource with an international map tool for identifying Indigenous land.
Raven Trust: Land Acknowledgments : From Recitation to Real
5 approaches to developing your heartfelt, authentic Territorial Acknowledgement
https://raventrust.com/wp-content/uploads/2021/06/LandAcknowledgementGuide.pdf
The Future – CAM's 5 Year Plan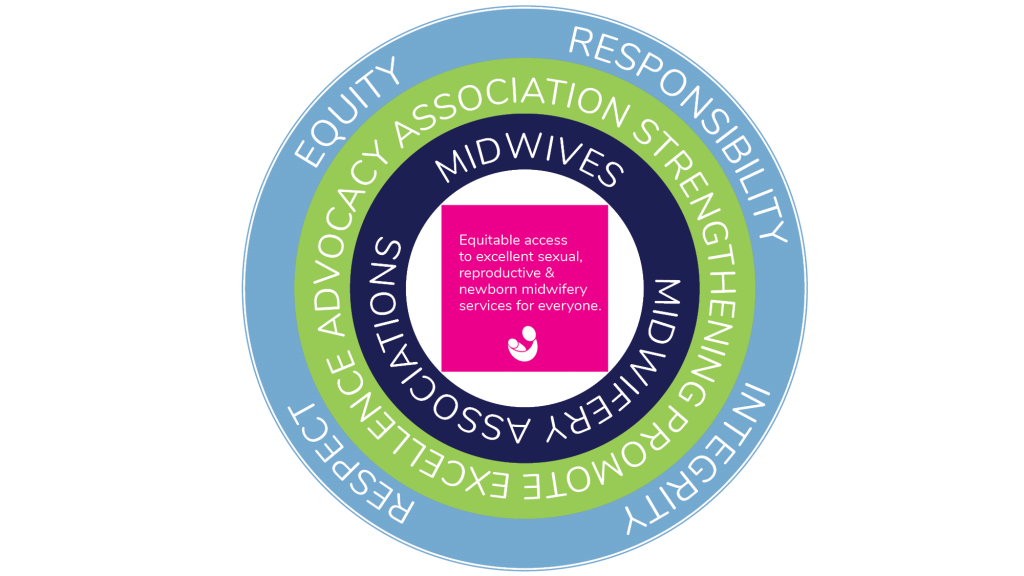 CAM's new 5-Year Plan is our road map of growth for midwifery. Learn more about the plan and what it means for midwifery and you in the 2021 Annual Report.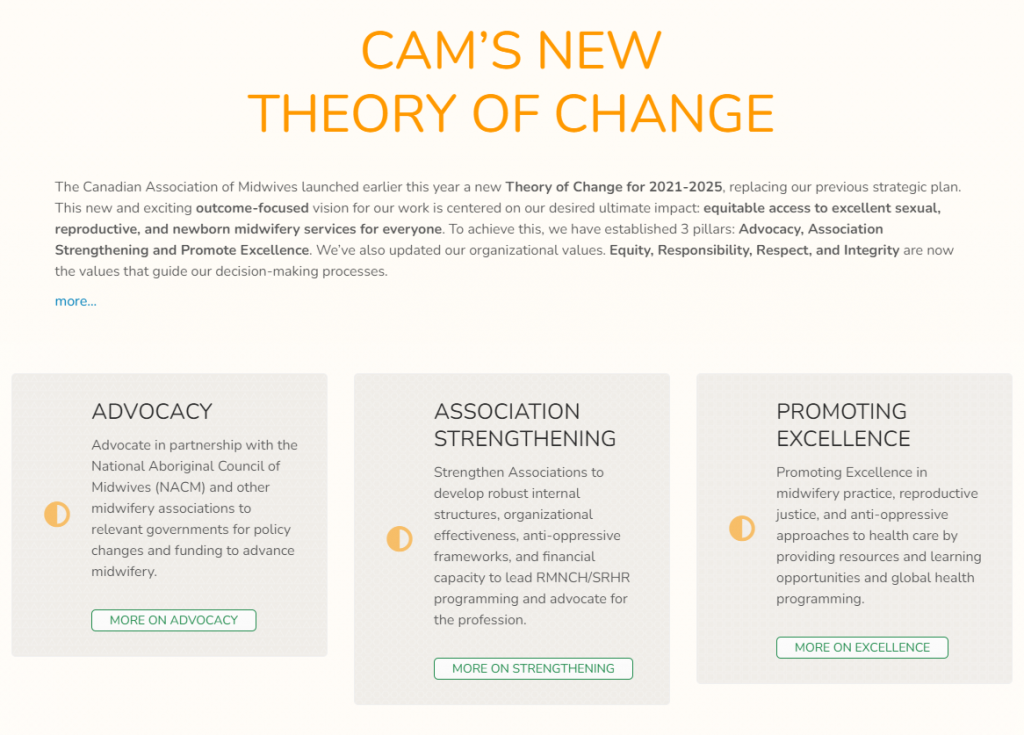 Or here in this detailed PDF
Annual Reports
To see how far we've come, scroll through these past annual reports:
Policies
On top of our 3 Pillars and core values, we also have policies to help guide decision making.
Position Statements
CAM's Position Statements outline our views on key issues around sexual and reproductive health. Topics range from anti-racism to working conditions. These statements help influence the conversation and move legislation towards our goal of equitable access to excellent sexual, reproductive, and newborn midwifery services for everyone.
NCIM Position Statements, fully endorsed by CAM
Joint Statements
Board of Directors
CAM is lead by representatives from every province and territory across Canada.
Alberta: Marita Obst, RM
British Columbia: Lisa Delorme, RM
Manitoba: Tracy Mullet, RM
New Brunswick: Brittany Stairs, RM
Newfoundland & Labrador: Brianna Thompson, RM
Northwest Territories: Tracy Hydeman, RM
Nova Scotia: Jessica MacDonald, RM
Nunavut: TBA
Ontario: Jasmin Tecson, RM
Prince Edward Island: Joyce England
Québec: Josyane Giroux, RM
Saskatchewan: Victoria Braun, RM
Yukon: TBD
NCIM co-chairs: Brenda Epoo, SF
Student rep: Maheen Maryam
Executive Committee
President: Alix Bacon, RM
Vice President: Elizabeth Brandeis, RM
Secretary: Trish Langley Frempong, RM
Treasurer: Judy DeFreitas
Executive Director: Tonia Occhionero
Being a CAM Member is Important
Being a member of CAM means that you are taking a stand and declaring that you believe in a better future; that you support our vision of equitable access to excellent sexual, reproductive, and newborn midwifery services for everyone; that you believe in our shared values of equity, responsibility, respect and integrity.
Student Members
As a student you can be an active force for change. You are the midwives of the future and are vital to the success of this profession.