Dear members,
The Canadian Association of Midwives launched earlier this year a new Theory of Change for 2021-2025, replacing our previous strategic plan. This new and exciting outcome-focused vision for our work is centered on our desired ultimate impact: equitable access to excellent sexual, reproductive, and newborn midwifery services for everyone. We also updated our organizational values. Equity, Responsibility, Respect, and Integrity are now the values that guide our work and our decision-making processes.
I encourage you all to take a closer look at our intended impact in each of our three pillars of work: Advocacy, Association Strengthening, and Promoting Excellence. Here are some of the highlights of what we have accomplished:
Advocacy
In 2021, we undertook a successful federal election mobilization focused on renewed funding for Indigenous Midwifery. We were thrilled to see the Liberal party commit to expanding access to the Federal Student Loan Forgiveness Program to include midwives and to increasing the loan forgiveness thresholds. We also presented to the Federal Standing Committee on the Status of Women, to Global Affairs Canada, and advocated for a new northern and bilingual home for the Laurentian University Midwifery Education Program.
Association Strengthening
After successful completion and publication of an evidence-informed framework on strengthening midwifery associations (thank you to Kirsty Bourret and Cristina Mattison for the research and policy brief!), we secured additional funding to continue a phase two of this research to see how the framework can be applied with our provincial and territorial associations here in Canada. We have initiated case studies in Alberta, Nova Scotia, Newfoundland & Labrador, and we continue the research with the Democratic Republic of Congo and the Puntland Association of Midwives. Globally, we continue to work with the midwifery associations in South Sudan, Somalia, Haiti, and a new global midwifery project led by CAM and funded by Global Affairs Canada will begin shortly with our long-term partners in the Democratic Republic of Congo and South Sudan.

Promoting Excellence
In addition to organizing a virtual annual conference, we launched CAM Learns, a platform that offers year-round learning opportunities and workshops on a variety of topics such as anti-racism and vaccine hesitancy. We also secured funding with the National Aboriginal Council of Midwives (NACM) to develop, in partnership with the University of British-Columbia, a free continuing education course on Midwifery Immunization Communication, and, in partnership with McMaster University, we are designing professional development courses to build midwives capacity to address gender-based violence.
In these volatile, uncertain, complex, and ambiguous times, I am grateful to our Board members and staff who put in the time and effort to develop this north star to guide us forward and I look forward to future updates on our successes, our learnings, and how our work is increasing access to equitable midwifery services for everyone.
Sincerely,
Alix Bacon, RM
CAM President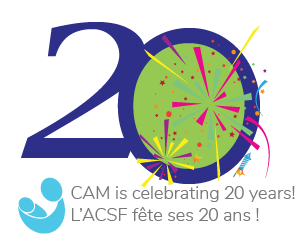 This year CAM turned 20!
Enjoy this short message from our President, Alix Bacon, celebrating the last 20 years of CAM, and looking forward to the next 20 years of midwifery.