When
February 28, 2023 from 12:00 PM - 04:00 PM
Online Event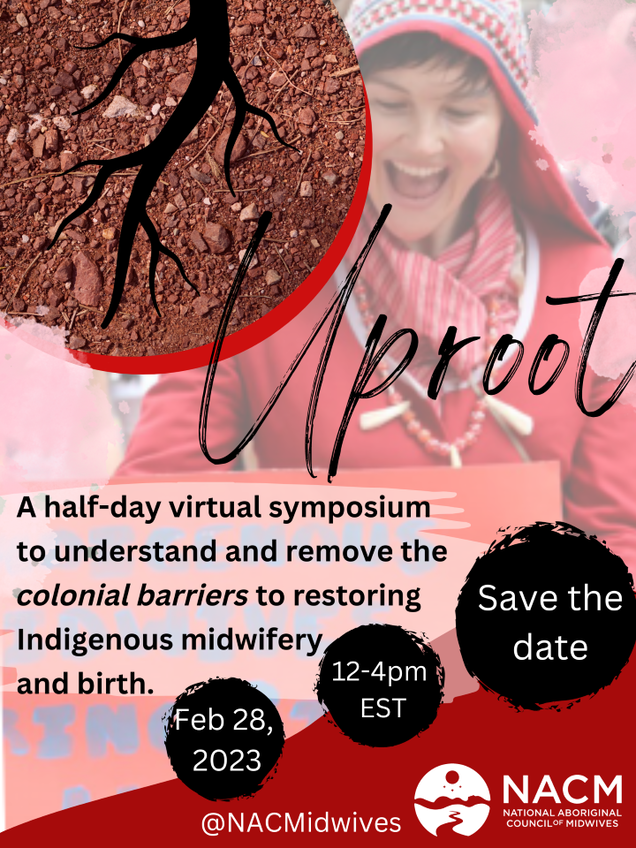 The National Aboriginal Council of Midwives is hosting a Symposium! Join us to learn more about Addressing Colonialism - the greatest barrier to restoring birth. 
Translation will be available in Inuktitut North Baffin as well as Inuktitut Nunavik.
For people who live in an area with unreliable internet connection or low bandwidth, please contact our Logistics Lead Alison Tassignon atassignon@canadianmidwives.org to arrange a mailed USB recording of the symposium if you find yourself unable to join on the day. A recording of the symposium will be available online for areas where internet quality allows for the viewing of videos.
Schedule
12:00 - 12:15 pm ET: Opening with Elder Dr. Roberta Price
12:15-12:30 pm ET: Introduction to the symposium with Evelyn George
12:30 - 1:00 pm ET: Midwifery regulation with Claire Dion-Fletcher
1:00 - 1:30 pm ET: Hospital privileges with Melanie Mason
1:30 - 1:45 pm ET: Break/continued discussion
1:45 - 2:15 pm ET: Hidden policies with Karen Lawford 
2:15 - 2:45 pm ET: Decolonial processes to bring birth back with Norma Rabbitskin, Chief Christine Longjohn, and Shirley Bighead
2:45 - 3:00 pm ET: Break/continued discussion
3:00 - 3:45 pm ET: Moving forward with Nathalie Pambrun, Carol Couchie and Evelyn George
3:45 - 4:00 pm ET: Closing with Elder Dr. Roberta Price